Affordable Custom Business Card Design
Because we are a complete design agency providing a wide range of design services we are capable of designing a brilliant logo and business card design or logo and complete stationery for you. If you don't have a professionally designed business card you may be harming your business image, start now! and have a brilliant business card created.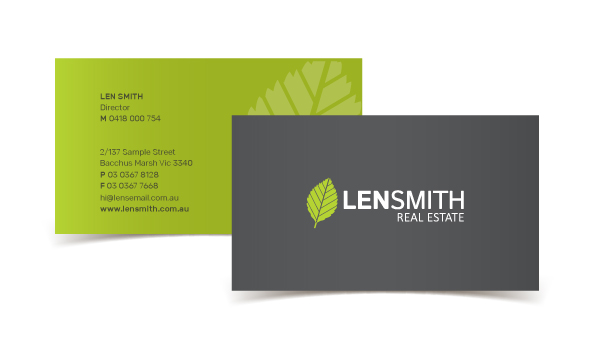 Our design agency
Logoland Australia provides effective and professional logo and graphic design services.  Our graphic designers create captivating business card designs that uniquely represent our client's brand.  We know how to create the perfect design to represent your business perfectly.  Our designers are experienced in creating the most professional and visually impacting business cards.  Our business card design services are suitable for businesses Australia-wide.
Complete business design solutions
We design professional stationery including business cards, letterheads, with compliment slips, envelopes and more.  Our talented graphic designers have more than 10 years experience in creating high end stationery and business branding.  With our hassle design service you can order and start your project from as early as today! We guarantee effective results and work hard to achieve what you need.
Our clients are from a diverse range of services and industries which means that no matter what products or services you provide we can create the perfect design.  Our company was founded in 2005 and we have been helping Australian businesses with their graphic design needs for almost a decade.
Our clients include RMIT University, Crime Stoppers Australia and many other well known clients as well as other great clients including electricians, accountants, financial advisers, property developers, shop owners and many more.
With Logoland you can instantly order a business card design within a complete brand design package or just your logo and business card by ordering our Professional Branding Package.
Tesla Company Logo

Musk has disclosed that RO Studio – the same firm that designed the logo for SpaceX, his rocket company, also made the Tesla Company Logo.  At the beginning the logo was made to fit inside [...]

Read more

Pizza Hut's New Logo

Pizza Hut's New Logo Pizza Hut have a brand new more simplified version of their logo now, a new company brand! A more relaxed and down to Earth version.  In the News and all over the news we [...]

Read more